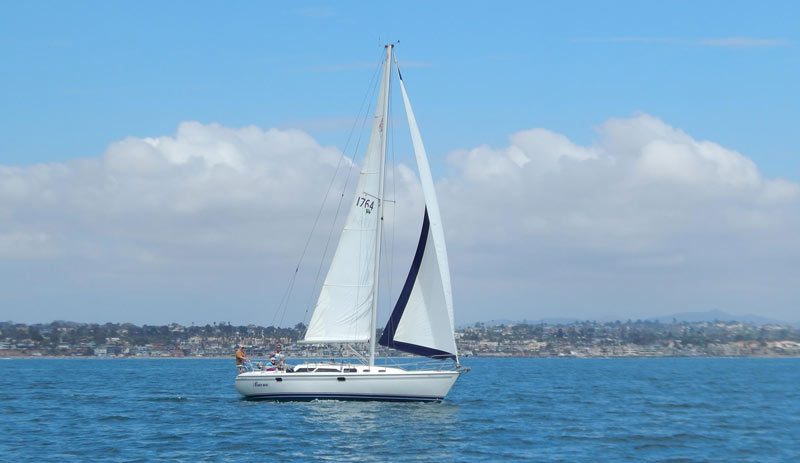 Enjoy the fresh breeze and soothing sounds of the ocean on our comfortable well equipped sailboat in a spacious fully cushioned cockpit that seats six easily. The main deck offers excellent visibility and seating arrangements, perfect for Oceanside, California coastal cruising.
The large cockpit features a teak table for your favorite snacks and beverages. Below deck you will find plenty of headroom, a galley, refrigerator, dining area, CD player, head, shower and two private staterooms, additional bunks allow for up to six guests for overnight trips.
The Bueno, commissioned in the Fall of 2006 is just shy of 36 feet long and includes all the conveniences and charm of a well designed yacht. You can take a turn at the helm if you like and experience first hand the thrill of floating along with the wind and waves. We encourage you to join in and trim the sails, learn the nautical terms and working parts of a sailboat, or if you prefer just sit back and enjoy the calming affects of the sea as you float along the Pacific coastline.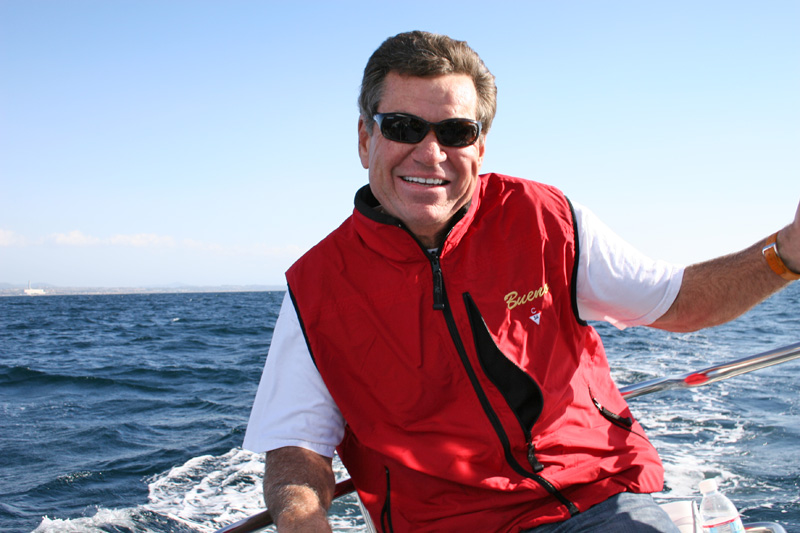 Steve Ford is Licensed by the U.S. Coast Guard, a certified sailing instructor with many years of experience sailing and exploring the waters off Southern California. He is a seasoned waterman willing to share his knowledge with anyone anxious to learn about the sea, sailing and his experiences. Captain Ford is also fluent in Spanish and able to accomodate many international travelers.
Captain Steve has a true love for the Ocean and the abundant beauty that can be enjoyed in an afternoon aboard the Bueno. You will enjoy his polite and outgoing personality as you sail along with the wind. You can take part in a relaxed informal sailing lesson learning the nautical terms and working parts of a sailboat, or sit back and relax while Captain Steve points out the numerous varieties of seabirds, fish, mammals and coastal landmarks.